Shenzhen World Exhibition & Convention Center is located in Shenzhen Airport New Town, which lies at the top of the Guangdong-Hong Kong-Macao Greater Bay Area and in the center of the Pearl River Delta and Guangdong Free Trade Zone. It is also the hub of Guangdong - Shenzhen - Hong Kong development corridor and East to West development corridor; and the center of Guangdong Foshan and Zhaofeng, Shenzhen Dongguan and Huizhou, Zhuhai Zhongshan and Jiangmen urban circles. The centralized location gives Shenzhen great development potential.
In 2017, the Guangdong-Hong Kong-Macao Greater Bay Area was accounted for 12% of national GDP despite only representing less than 1% of the country's total land area and less than 5% of the total population. And its gross GDP has outshone that of the San Francisco Bay Area and New York Bay Area to reach 1.54 trillion dollars. In five years, the Greater Bay Area is projected to overtake the Tokyo Bay Area and become the world's No.1 bay area, in terms of GDP. Airport New Town is positioned to drive Shenzhen's future economic prosperity and development, and will emerge as a sub-city center and a first-class international airtropolis.
As a major construction project put forward by the CPC Shenzhen Municipal Committee and Shenzhen Municipal People's Government, Shenzhen International Convention & Exhibition Center is a key project in the development plan of Shenzhen, and plays an important role in enhancing the urban functions and image, building Shenzhen into a convention center in China and around the world, accelerating the process of building Shenzhen into a modern, international, and innovative city. Shenzhen World will meet the standard of "world-class design, construction and operation", and gather global wisdom, explore and innovate continuously, and make unremitting efforts to provide first-class international services for our customers both at home and abroad, building Shenzhen International Convention & Exhibition Center into a new benchmark for global exhibition halls, a new carrier for industry development, a new engine forregional development, a new driving force for urban development, and a new landmark in Shenzhen.
Groundlevel Parking

Parking in Shenzhen World is constituted of above-ground and underground car park. Taxi: at the east side of two lobbies and at the South Entrance.
ⅰ. VIP parking: at the west end of the two lobbies and outside Hall 18, providing about 555 parking spaces.
ⅱ. Truck temporary parking: adjacent to each exhibition hall except for Hall 18, providing about 846 parking spaces.
ⅲ. Truck marshalling yard: at the north end of the venue boasts 1,472 parking spaces.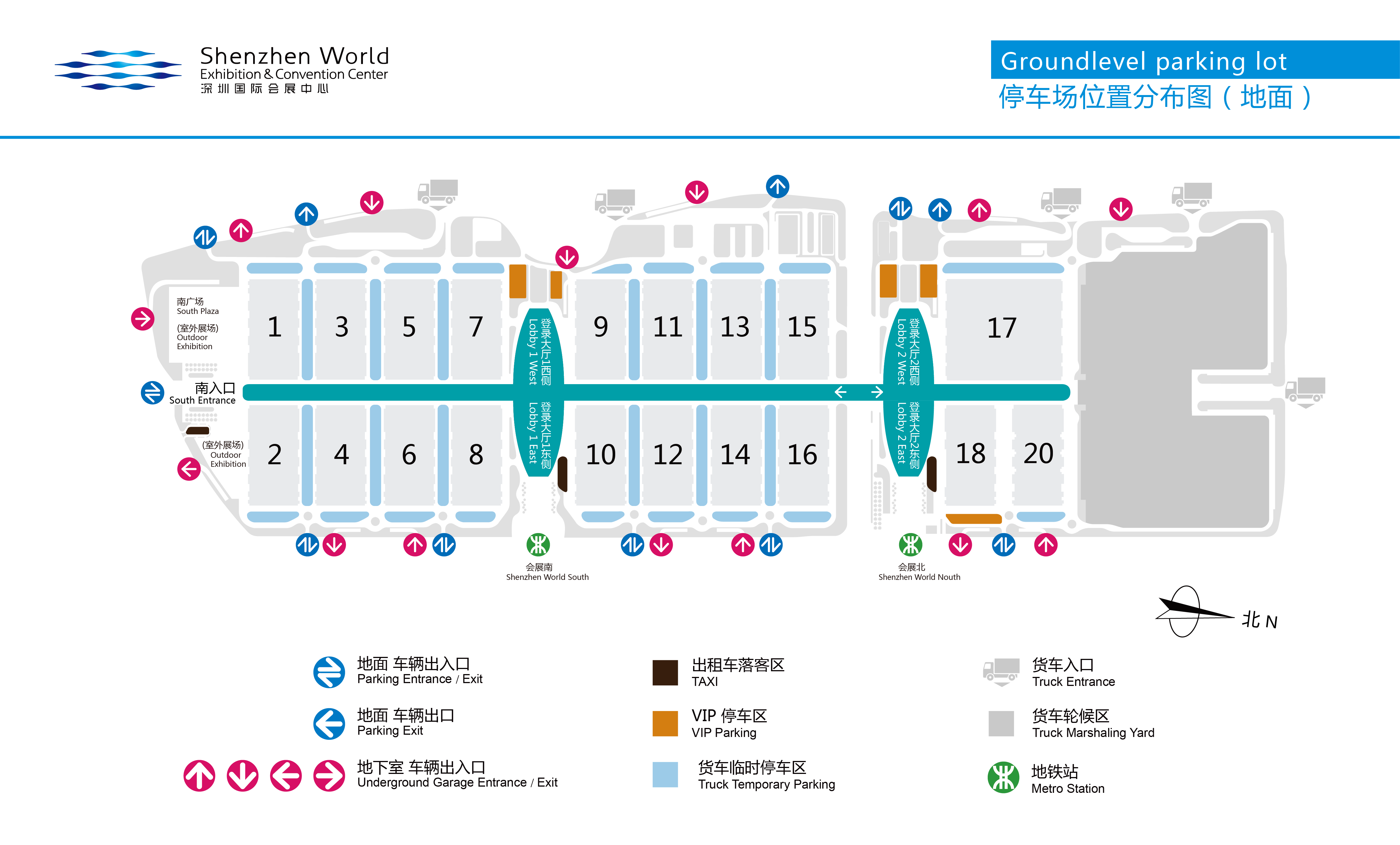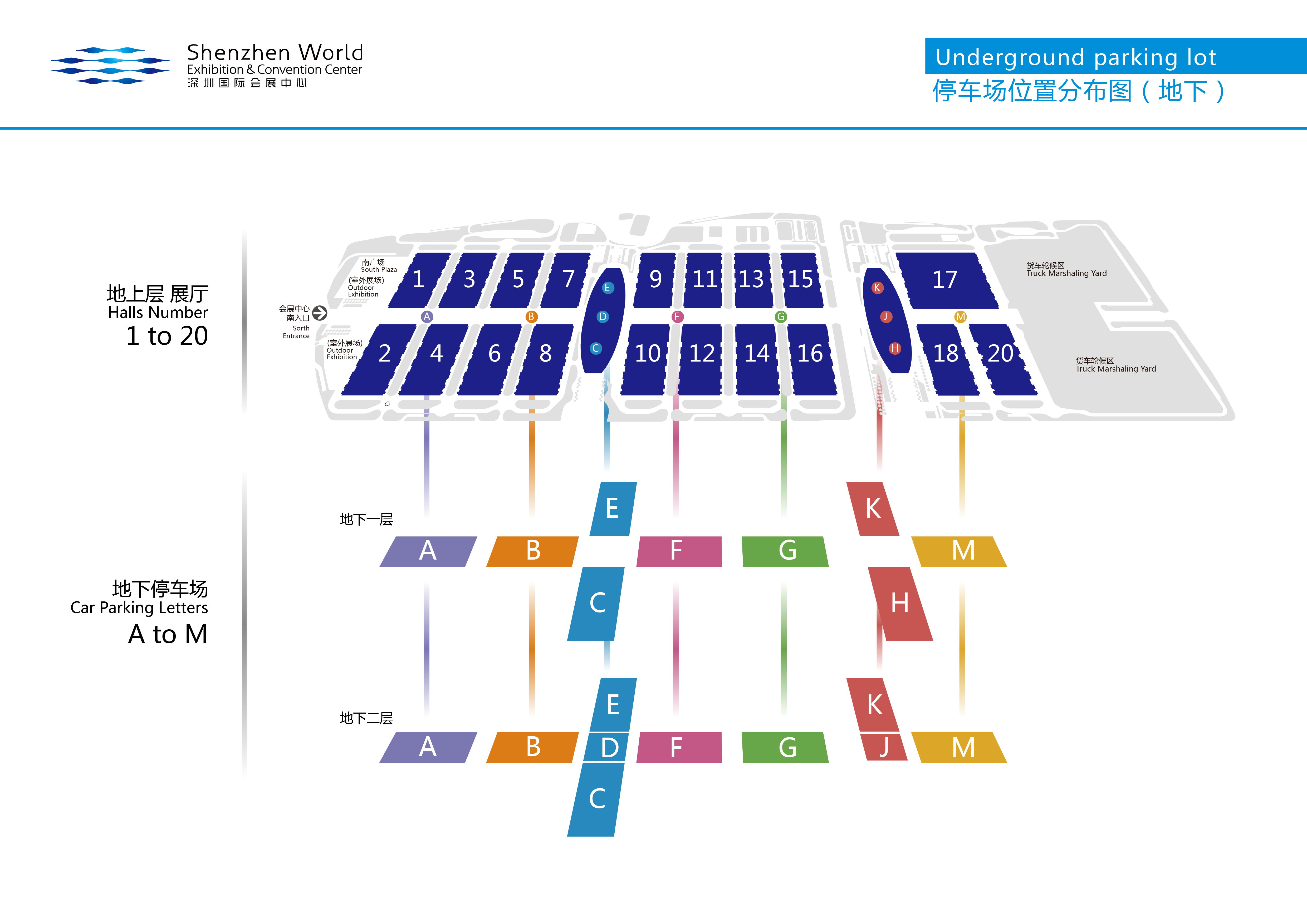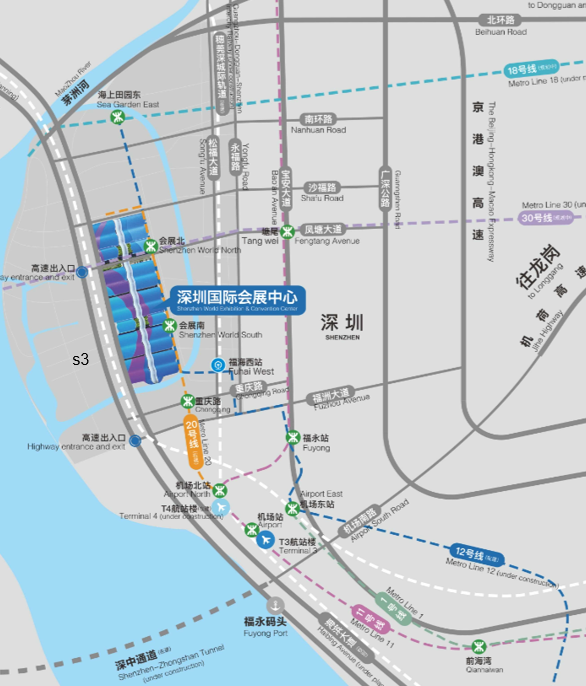 Venue & Surroundings