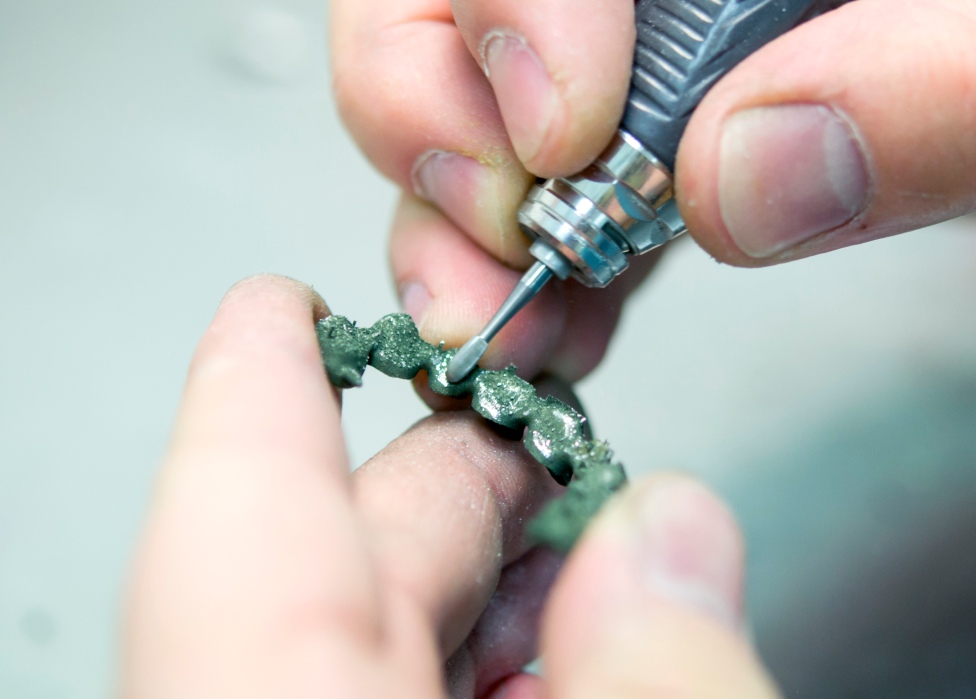 Manual postprocessing methods like grinding slow additive workflows. Getty Images
Digitalization permeates our lives more and more each day, affecting everything from the way we communicate as individuals to how we run our businesses. We are more connected than ever before.
This has been especially true since the early days of the coronavirus pandemic. The critical role that digitalization plays in the future of our society, including manufacturing, has become increasingly obvious.
Additive manufacturing is well-positioned to play a role in digital manufacturing. Once designed in CAD software, parts often can be 3D-printed in hours with minimal manual labor.
The process also eliminates many of the high costs associated with parts production with conventional manufacturing processes. The ability to rapidly make parts at a low cost is why AM was so heavily relied upon for the production of parts during the pandemic.
Thanks to its intelligent, on-demand nature, industrial 3D printing is also well-suited to the oncoming fourth industrial wave, known as Industry 4.0. Going a step beyond automation, Industry 4.0 will enable "smart" production systems via digital assets like the Internet of Things, AI, and Big Data.
Now for the Bad News
That being said, traditional methods of postprocessing, or postprinting, starkly contrast with the cutting-edge design and print steps of AM. Highly laborious processes like surface finishing, sanding, resin removal via vats of isopropyl alcohol, and manual support removal with hand tools are cumbersome and lead to inefficiencies in otherwise streamlined workflows.
Additive manufacturers know this and expect it to have a negative impact on their operations in the future.
"The 2020 Annual Additive Post-Printing Trends Report" found that 46% of additive users think their current postprinting methods will pose future challenges for their AM operations. Regardless of the print technology employed, fully connecting the 3D printing process through the use of digitalization is integral for scaling production-volume printing, traceability, and ensuring that each additive workflow is suited for Industry 4.0.
Digital Dealmaker

One of the biggest mistakes additive manufacturers make is "siloing" the various steps of the AM process. They treat the additive functions of design, print, and postprinting as individual steps in a linear process instead of an integrated whole. Rather than cutting the digital thread after the print step, data from the first two steps should be leveraged to create a smarter, seamless postprinting experience.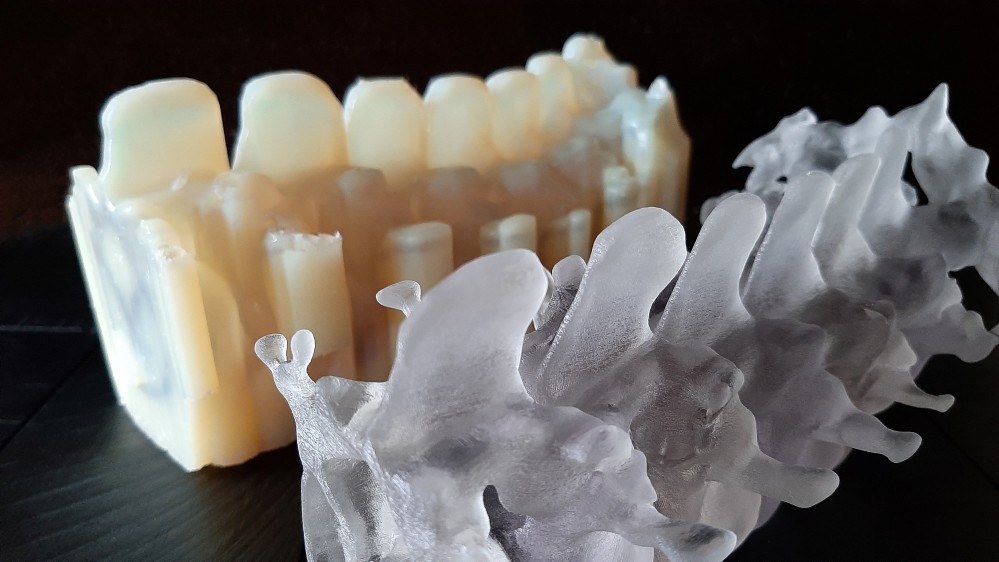 Shown are sections of a 3D-printed spine before (top) and after resin removal by an automated system. PostProcess
Design for additive manufacturing (DfAM) is one way in which software intelligence can be used to design parts with postprocessing in mind. In addition to leveraging features like soluble support material for certain print technologies, CAD software can be used to design proper contour tooling paths and part orientations that ease the postprinting phase.
Though DfAM can be helpful for designing parts in which postprocessing is a consideration, currently captured data are limited to the design and print steps. By connecting the digital thread through to the postprinting stage, additive users would be able to scale throughput without hiring additional labor, which is critical in light of ongoing labor-shortage issues.